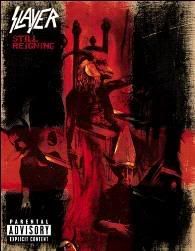 Parte 1: Reign in Blood Live

1. "Angel of Death"
2. "Piece by Piece"
3. "Necrophobic"
4. "Altar of Sacrifice"
5. "Jesus Saves"
6. "Criminally Insane"
7. "Reborn"
8. "Epidemic"
9. "Postmortem"
10. "Raining Blood"

Parte 2: Bonus Material

1. "War Ensemble"
2. "Hallowed Point"
3. "Necrophiliac"
4. "Mandatory Suicide"
5. "Spill the Blood"
6. "South of Heaven"

Descarga Parte 1
Descarga Parte 2

Pues les dejo el audio del DVD "Still Reigning" del año 2004 en donde se reventaron completito el discazo Reign in Blood, ademas se incluye un bonus material en donde se encuentran otras rolas que no deben faltar como South of Haven, War Ensemble, Necrophiliac, entre otras, chequenlo esta de poca..